Genuine products and traditional processes
1956 is the year in which both Sergio and the Pasticceria Buralli were born
1956 is the year in which both Sergio and the Pasticceria Buralli were born.
Who would have thought that one day they would become one.
In the following years, Giulio and Maria laid the foundations for their patisserie located in Carmine Square. Sergio fell in love with the art of baking when he was 14, while working under the guidance of master Otello, the owner of an old confectionery shop in Lucca.
It was easy to imagine that pastry-making would became his biggest passion.
With Monica, his wife, it was love at first sight, in all respects. Giulio, Monica's father, passed down to Sergio all his knowledge: such knowledge enriched Sergio and gave him the experience he needed to start his ascent as a great pastry chef.
Multitudes of people of Lucca have passed through the historic hangout in Carmine Square: at the time the city market was located there, thus making the square the center of the town's commerce.
Any time was a good time to celebrate with one of Pasticceria Buralli's delicious creations. During the 80s and the 90s the patisserie's production saw a sharp rise, and at the same time significant innovations increased its fame and prestige.
However Sergio wanted an even bigger slice of the cake,and he achieved that in 2009 with the opening of a new atisserie outside of Lucca's old town centre. The store, with its own workshop, has become, from the very first moment, a popular hangout among the clientele of Lucca and beyond.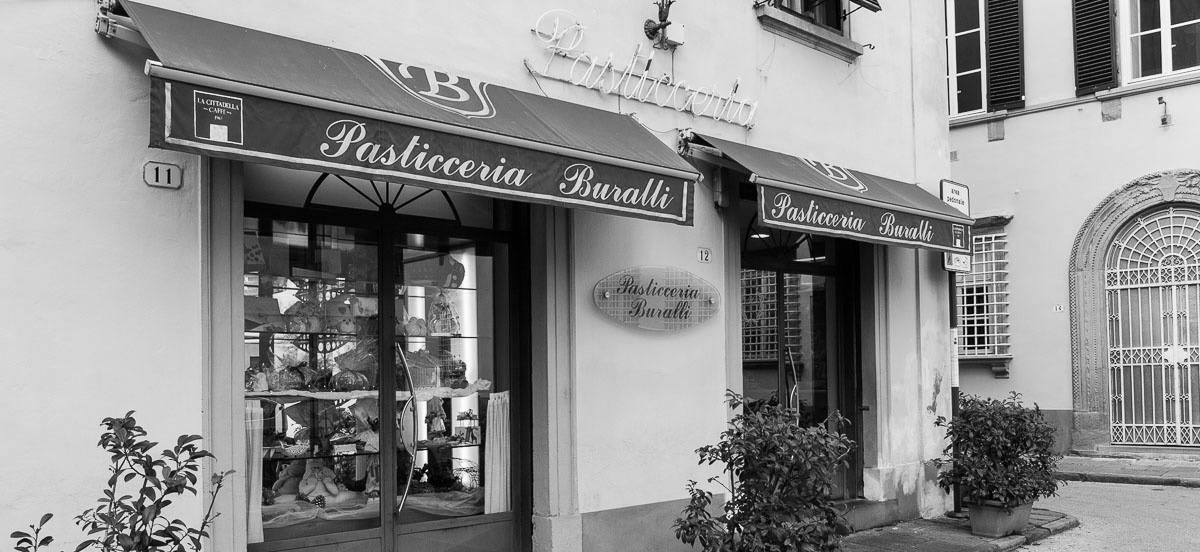 After 60 years of activity, the dimensions of the business have changed, but its strengths have stayed the same: the genuineness of the ingredients, the very high quality of the products, the traditional manufacturing, with the right proportions and an attentive baking, the refined flavours and the attention for the details of the presentation.
And last but not least, there's the dedication of the whole family, with the presence of the third generation, the daughter Eleonora and son Federico.